Holiday Home/Apartment - 6 persons -
Vinacac
- 20271
- Prižba
Overview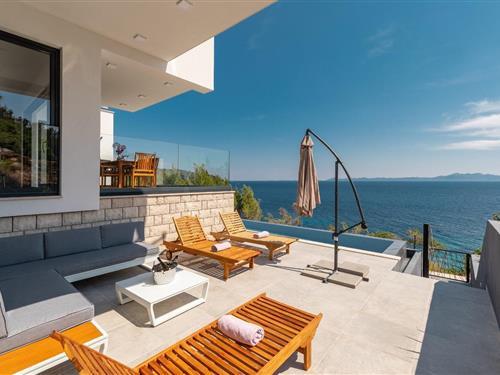 Please select an arrivaldate to see the price.
Short breaks available

Yes

Swimming pool

Yes

Satelite dish/cable TV

Yes

Woodburning stove

Yes

Air conditioning

Yes

Washing machine

Yes

Dryer

Yes

Dishwasher

Yes
Description
Villa White House on Korcula island Villa White House is a paradise on earth. This beauty is practically situated on the beach, on one of the most beautiful Croatian islands, Korcula. The 166 m2 indoor area accommodates up to 6 guests in 3 luxury bedrooms. All the bedrooms have an en-suite bathroom and a roof-to-floor window, so you are woken up every day by the sun rays. A welcome package is waiting for you in the fully equipped kitchen, and there are two dining areas, the indoor, and the outdoor (we know which one you'll choose). The living room is spacious and has a workspace if you need to work while being on holiday. The 24 m2 pool is situated in front of the house and right by it is a stairway that leads you to the sea. Just like in movies. But that's not all! When you get tired of the beach and the pool, you can always relax in the jacuzzi! There are a lot of terraces in the villa, so each one of you can have its own floor for soaking up the sun. The area is very quiet and peaceful, perfect for a family escape. Have you thought of renting the villa White House for the most special day of your life? This villa offers the organization of events and weddings upon request. Just think of the excellent pictures you would get! While exploring the surroundings of the villa, we recommend you visit the towns of Blato and Vela Luka. Croatian islands are probably the biggest heritage the country has and, by renting this villa, you will see it for yourself.

Outside area: Fenced; Garden available; Grill; Outdoor shower; Parking spaces: 3; Private parking space; Private swimming pool; Terrace; Veranda;

House information: 3rd double bed; 3rd double bed; 3rd double bed; Bathrooms: 4; Bedroom; Detached building; Property area: 500 m²; Total number of floors in the building: 1; Year of construction: 2019;

Living area: Iron; Safe; Satellite-tv; TV; Woodburning stove;

Bath/WC: Shower; Shower; Shower; Shower; Sink; Sink; Sink; Sink; Toilet; Toilet; Toilet; Toilet;

Kitchen: Coffee machine; Dishwasher; Freezer; Fridge; Microwave; Oven; Stove; Toaster; Water boiler;

Other: Air conditioning; Baby chair; Clothes dryer; Heating; Pets allowed: max. 0; Vacuum cleaner; Washing machine; Wifi;

Distances (linear, approx.): Distance to airport: 170,00 km; Distance to beach: 10 m; Distance to cafés/ restaurants: 2,00 km; Distance to food market: 2,00 km; Next location: 6,00 km;
Facilities
Bathroom

Shower

Toilet

Washing stand

Bathroom features

Shower

Toilet

Washing stand

Entertainment electronics

Equipment

Dryer/Drying facilities

Vacuum cleaner

Washing machine (exclusive use)

Garden and outdoor

Heating

Inhouse features

Kitchen

Coffee machine

Cooking facilities (four hobs)

Cooler/freezer combination

Dishwasher

Kettle

Microwave oven

Oven

Refrigerator

Toaster

Living room furniture

On-site leisure facilities

Outdoor facilities

Parking facilities

Pet allowed

Property type

Short description

Living area

166 m²

Maximum occupancy

6

Minimum occupancy

1

Number of bathrooms

4

Number of bedrooms

3

Property area

500 m²

Year of construction

2019

Surrounding

Distance to next restaurant

2 km

Distance to town

6 km

Town name

Prižba

Telecommunications

Travel Instructions

Distance to nearest airport

170 km
Short stay
There are no short vacations available at the moment. Typically this means that it is not possible to take a short vacation in the peak season.
Prices and calendar
Price
Period
Arrival

Departure

Duration

1 week
persons
No persons specified
Please notice
Arrival not specified.
Persons not specified.
Terms of agreement