Holiday Home/Apartment - 8 persons -
Kuk bb
- 21320
- Puharici Bei Makarska
Overview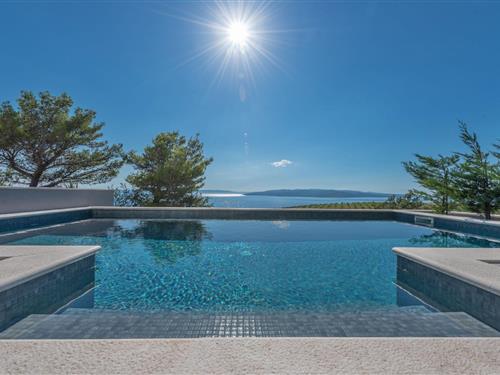 Please select an arrivaldate to see the price.
Short breaks available

Yes

Outdoor pool

Yes

Air conditioning

Yes

Washing machine

Yes

Dishwasher

Yes

Electric car charging

Yes
Description
Enjoy the best, in the front row of the Adriatic coast. New villa on the MakarskaRiviera. Best Price Guaranteed!Villa Kuk is a little jewel among the villas on the Makarska Riviera - not only because of its divine location between mountain and sea, but also because of its amazingly stylish interior, the beautiful terrace and the Mediterranean flora - huge vineyards and olive groves- that surround it.This villa is a perfect place to relax with family and friends because here you can jump into the pool while sunbathing on beautiful terrace . Outside there is an open barbecue area and dining table for gatherings offering amazing view over the Adriatic. There is a huge vineyard under this villa and an olive grove behind the house.Choose this exquisitely stylish villa for a modern summer vacation. Note: the pool will be open from 01 May to 01 October. Your outdoor gatherings will fill in the barbecue area, where you can prepare a delicious meal for your loved ones. Children especially will find entertainment outdoors with playhouse, swing, jungle gym and slide. Those who are more interested in sports will find exercise equipment in the sports hall.heated seawater pool Top unique location. Private, quiet for complete retreat. Heated pool with saltwater. The nearest beach where you can swim and sunbathe is a pebble beach- 5 minutes drive in Krvavica. To the center of Makarska you also need 5 minutes by car.

Features of the property: Object in residential area

Outside area: Fenced; Garages; Garden available; Grill; Heated swimming pool; Loggia; Outdoor shower; Parking spaces: 3; Private swimming pool; Roof terrace; Terrace;

House information: 2nd double bed; 2nd double bed; 2nd double bed; 2nd double bed; 2nd single bed; 2nd single bed; Bathrooms: 3; Bedroom; Detached building; Total number of floors in the building: 2;

Living area: Safe; TV;

Bath/WC: Shower; Shower; Toilet; Toilet; Toilet;

Kitchen: Coffee machine; Dishwasher; Freezer; Fridge; Microwave; Oven; Stove; Water boiler;

Other: Air conditioning; Pets allowed: max. 0; Washing machine; Wifi;

Distances (linear, approx.): Distance Bar / Club: 3,00 km; Distance to airport: 90,00 km; Distance to beach: 2,00 km; Distance to cafés/ restaurants: 2,00 km; Distance to food market: 2,00 km; Next location: 3,00 km;
Facilities
Bathroom

Bathroom features

Bedroom

1 double bed(s) (1.80m width)

1 single bed(s) (0.90m width)

Other bedroom furniture

1 double bed(s) (1.80m width)

Entertainment electronics

Equipment

Charging station for E-cars

Washing machine (exclusive use)

Garden and outdoor

Inhouse features

Kitchen

Coffee machine

Cooking facilities (four hobs)

Deep freezer

Dishwasher

Kettle

Microwave oven

Oven

Refrigerator

On-site leisure facilities

Outdoor swimming pool exclusive use

Outdoor facilities

Pet allowed

Property type

Short description

Living area

300 m²

Maximum occupancy

8

Minimum occupancy

1

Number of bathrooms

3

Number of bedrooms

4

Surrounding

Distance to next restaurant

2 km

Distance to town

3 km

Town name

Puharici bei Makarska

Telecommunications

Travel Instructions

Distance to nearest airport

90 km
Short stay
There are no short vacations available at the moment. Typically this means that it is not possible to take a short vacation in the peak season.
Prices and calendar
Price
Period
Arrival

Departure

Duration

1 week
Persons
No persons specified
Please notice
Arrival not specified.
Persons not specified.
Terms of agreement