Holiday Home/Apartment - 8 persons -
noviny pod ralskem
- 47124
- Straz Pod Ralskem
Overview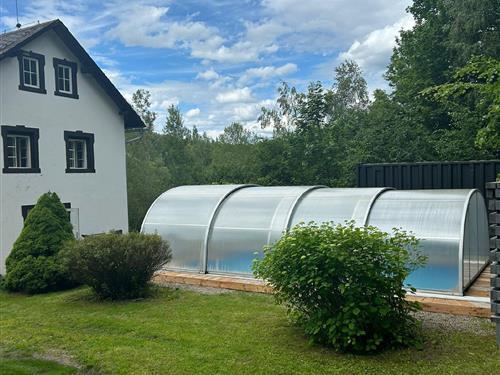 Please select an arrivaldate to see the price.
Short breaks available

Yes

Sauna

Yes

Satelite dish/cable TV

Yes

Woodburning stove

Yes

Washing machine

Yes

Dishwasher

Yes
Description
Traditional house in the province of North Bohemia, surrounded by forests, hills and the ruins of Ralsko This house is in quiet surroundings, right above a rocky gorge of the Ploucnice River, which is popular among tourists from around the world as a natural monument. The holiday accommodation was recently completely renovated and converted and all the rooms have been furnished with stylish furniture. It exudes a pleasant atmosphere and offers an unforgettable experience. The first floor has three bedrooms, each with a comfortable double bed (bed linen included), with cupboards and drawers providing storage space. A children's bed is also available. The house also has a hall and a big bathroom with under-floor heating, a bath and a WC. The ground floor has a spacious living room with satellite TV, a bathroom with under-floor heating, a shower and WC, a storage room with a washing machine, a fully-equipped kitchen (fridge, dishwasher, stove, crockery). The dining room, dominated by a fireplace, is part of the kitchen and from here you have direct access to the terrace with a big swimming pool. The furnished terrace provides a lovely place to sit, grill or have a party with friends. You can relax after a tiring day in the newly installed sauna. The whole building has central heating, but you can also use the stove during the cooler evening hours. There is Internet access. You can park your car on the enclosed site. The location of this house at the foot of the Ralsko hills offers a range of leisure activities. The picturesque landscape invites you to go hiking, cycling or swimming, and there are tennis and volleyball courts, playgrounds, a real climbing park with a climbing wall, golf etc. It is possible to hire a bicycle or skates. The town of Noviny pod Ralskem is between the Lusation Mountains, the Jizera Mountains, Ralso and the Bohemian low mountains. There are many historical buildings and natural sights, for romantic souls.

Outside area: Grill; Parking spaces: 4;

House information: 2nd double bed; 2nd double bed; 2nd single bed; Altitude above sea level: 290 m; Bathrooms: 2; Bedroom; Property area: 1000 m²; Total number of floors in the building: 1; Year of construction: 1900; Year of renovation: 2013;

Living area: Fireplace; Satellite-tv; Sound system;

Bath/WC: Bathtubs; Bathtubs; Sauna near by; Shower; Shower; Sink; Sink; Toilet; Toilet; Toilet;

Kitchen: Dishwasher; Fridge; Kitchen sharing;

Other: Pets allowed: max. 0; Washing machine; Wifi all-inclusive package;

Distances (linear, approx.): Distance Bar / Club: 1,00 km; Distance to airport: 100,00 km; Distance to cable car: 25,00 km; Distance to cafés/ restaurants: 1,00 km; Distance to food market: 2,00 km; Distance to golfcourt: 15,00 km; Distance to lake: 2,00 km; Distance to railway station: 2,00 km; Distance to sand beach: 2,00 km; Distance to swimming pool: 2,00 km; Distance to tennis court: 2,00 km; Distance to water sports: 2,00 km; Riding facilities: 15,00 km;
Facilities
Bathroom features

Shower

Toilet

Washing stand

Entertainment electronics

Equipment

Washing machine (exclusive use)

Garden and outdoor

Kitchen

Nearby sports facilities

One Room Flat

On-site leisure facilities

Pet allowed

Short description

Living area

260 m²

Maximum occupancy

8

Minimum occupancy

1

Number of bathrooms

2

Number of bedrooms

3

Property area

1000 m²

Year of construction

1900

Surrounding

Distance to lake

2 km

Distance to next restaurant

1 km

Town name

Straz pod Ralskem

Telecommunications

Travel Instructions

Distance to nearest airport

100 km

Distance to nearest train station

2 km
Short stay
There are no short vacations available at the moment. Typically this means that it is not possible to take a short vacation in the peak season.
Prices and calendar
Price
Period
Arrival

Departure

Duration

1 week
persons
No persons specified
Please notice
Arrival not specified.
Persons not specified.
Terms of agreement