Holiday Home/Apartment - 8 persons -
Supljak Cikarini
- 22203
- Primošten
Overview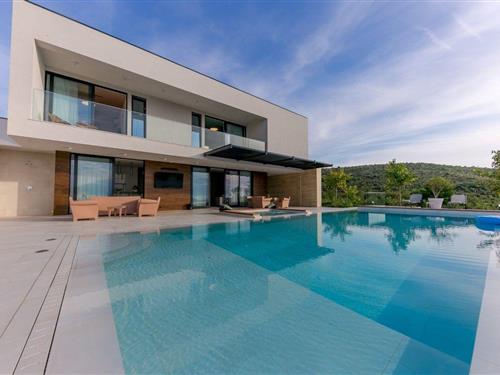 Please select an arrivaldate to see the price.
Short breaks available

Yes

Swimming pool

Yes

Satelite dish/cable TV

Yes

Woodburning stove

Yes

Air conditioning

Yes

Washing machine

Yes

Dryer

Yes

Dishwasher

Yes
Description
Villa Korina in Primošten Located in the beautiful city of Primošten, only 2 km away from the beach, the amazing villa Korina will take your breath away. It is the best choice for anyone who enjoys a dose of luxury combined with an excellent location. The stunning villa is ideal for families and friends who want to enjoy peace and privacy while sightseeing and entertainment are also just several kilometers away. The beautifully decorated villa stands proud with its spacious surroundings which include a 70 m2 heated swimming pool and a garden with Mediterranean flora. Villa Korina spreads over 290 m2 and consists of a fully equipped kitchen, a spacious living room with an extendable sofa, and a toilet on the ground floor. Wake up hearing the birds singing, look at the sea and take your first coffee at the pool surrounded by greenery so far away from the rush and the crowds…The exterior of this luxury villa will delight every guest. Relaxing in the Jacuzzi, watching the TV from the pool, or preparing a meal in the outside kitchen while drinking wine that you previously cooled in the wine cooler… Yes, it is possible! Four carefully designed and luxurious double bedrooms have private en-suite bathrooms, exits to the terraces, SAT-TV, and air-conditioning. In total, the villa can accommodate up to 8 guests. Delightful villa Korina is created for vacation and escape from reality. If you want to take your pets on vacation, it is possible with an extra charge. Enjoy villa Korina and experience the charm of the city of Šibenik & Trogir. Don't forget, there are two national parks nearby! Welcome!

Outside area: Garden available; Grill; Heated swimming pool; Outdoor shower; Parking spaces: 3; Private parking space; Private swimming pool; Terrace; Veranda;

House information: 2nd double bed; 2nd double bed; 2nd double bed; 2nd double bed; Bathrooms: 4; Bedroom; Detached building; Property area: 1400 m²; Total number of floors in the building: 1; Year of construction: 2018; Year of renovation: 2021;

Living area: Iron; Safe; Satellite-tv; TV; Woodburning stove;

Bath/WC: Bathtub; Shower; Shower; Shower; Sink; Sink; Sink; Sink; Sink; Toilet; Toilet; Toilet; Toilet; Toilet;

Kitchen: Coffee machine; Dishwasher; Freezer; Fridge; Microwave; Oven; Stove; Water boiler;

Other: Air conditioning; Clothes dryer; Heating; Washing machine; Wifi;

Distances (linear, approx.): Distance to airport: 35,00 km; Distance to beach: 2,00 km; Distance to cafés/ restaurants: 2,00 km; Distance to food market: 2,50 km;
Facilities
Bathroom

Bath tub without shower

Shower

Toilet

Washing stand

Bathroom features

Shower

Toilet

Washing stand

Entertainment electronics

Equipment

Dryer/Drying facilities

Washing machine (exclusive use)

Garden and outdoor

Heating

Inhouse features

Kitchen

Coffee machine

Cooking facilities (four hobs)

Cooler/freezer combination

Dishwasher

Kettle

Microwave oven

Oven

Refrigerator

One Room Flat

On-site leisure facilities

Outdoor facilities

Parking facilities

Pet allowed

Property type

Short description

Living area

290 m²

Maximum occupancy

8

Minimum occupancy

1

Number of bathrooms

4

Number of bedrooms

4

Other rooms

Guest toilet (or WC): 1

Property area

1400 m²

Year of construction

2018

Surrounding

Distance to next restaurant

2 km

Town name

Primošten

Telecommunications

Travel Instructions

Distance to nearest airport

35 km
Short stay
There are no short vacations available at the moment. Typically this means that it is not possible to take a short vacation in the peak season.
Prices and calendar
Price
Period
Arrival

Departure

Duration

1 week
persons
No persons specified
Please notice
Arrival not specified.
Persons not specified.
Terms of agreement